Gantry Series > GL-1510/1613/2015/2518/3022-6032
Super rigid structure (High performance-price ratio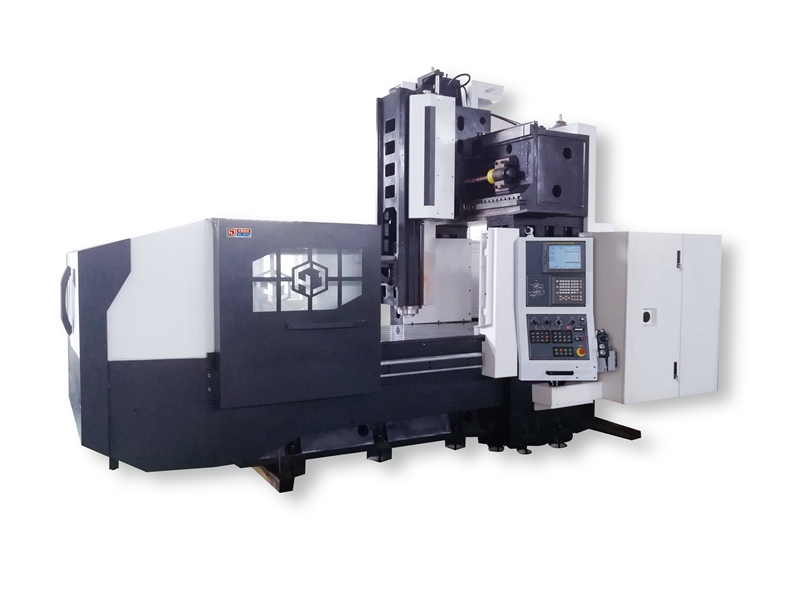 Main characteristics
---
The super columns and beam structure are used as the support, thereby ensuring the optimal rigidity; the inclined-back beam is taken; the widened slideway is featured with wide stress, and the center of gravity of the head evenly leans against the beam center; in this way, better accuracy and super heavy cut performance are achieved, and the whole structure has unique and high stability.

Good configuration of the spindle: the center of spindle is close to the sliding rail of the Axis Z, thereby greatly reducing influence due to thermal displacement and possible bending deformation generated by cutting torque, and accordingly ensuring good accuracy.

The base uses the high-rigidity V-shaped structure; the best span is calculated for the bearing slideway of the table; and the bearing surface is wide and can still maintain good accuracy in case of the maximum load.

The suspended support is applied to the variable counterweight cylinder of the Axis Z and close to the center of gravity; the centers of the screw and the spindle motor are configured optimally, to avoid occurrence of unbalanced moment and ensure certainty of microfeed and long-term machining accuracy.
Warranty of high-rigidity structure and high quality
---
The counterweight balance of oil cylinder is taken for movement of Axis Z; in this way, movement is implemented stably and smoothly. A pressure accumulator is installed to more quickly supplement the hydraulic oil to the oil cylinder.

The precision leading screws with great diameters and appropriate preloads are applied to Axes X, Y and Z, and armed setting is used on the trailing end.

The box-type structure and comprehensive ribs are used for machine tool body as the support, as well as high-quality Meehanite castings, and the design structure having high-precision cutting and dry cutting requirements.

The full-support design is taken on the table during the whole stroke; therefore no deviation would generate due to suspension of the table.

The oversized door and ultra-long stroke are taken, to adapt to the machining requirements of big workpieces.

The BT-50 short nose spindle having a revolving speed achieving 6000rpm is used and assembled with a high-precision bearing having a diameter achieving 100mm. As for taper of BT-50 inner hole, the nose design of the short spindle is taken; in this way, it is suitable for heavy cut; in connection with the planetary transmission gear box of Germany, the torsion of the spindle can achieve 572N-m, and the spindle having the revolving speed at 8000rpm can be selected.

The helical and chain-plate type debris removal: two sides of the machine base are equipped with the helical cutting parts; in this way, the iron scraps generated during machining can be conveyed to the chip conveyor in front of the machine tool easily, and discharged into a collecting cart through the chip conveyor.
Technical Parameters
---
Basic specification:
unit
GL1510
GL1613
GL-2015
GL-2518
GL-3022
GL-6032
Stroke














Strokes of Axes X, Y and Z
mm
1500/1000/500
1600/1300/600
2000×1650×800
2500×1800×1000
3000×2200×1000
6000×3200×1000
Nose of the Spindle to the Table Surface
mm
200-700
200-800
175-975
250-1250
250-1250
200-1200
Center of the Spindle to the Shield Surface of Axis Z
mm
1050(Gantry width)
1400(Gantry width)
1650(Gantry width)
1900(Gantry width)
2200(Gantry width)
3200(Gantry width)
Maximum Load of the Table














Table Size
mm
1600X900
1700X1200
2000×1200
2500×1600
3000×1800
6000×2500
Maximum Load of the Table
kg
2500
3000
7000
10000
13000
22000
Size of T-Shaped Slot (Width * Number of Slots * Interval)
mm
18X5X165
18X7X150
22×7×170
22×9×180
22×9×180
28×10×220
Spindle














Revolving Speed of Spindle
rpm
6000
6000
6000
6000
6000
6000
Horsepower of Spindle Motor
kw
15/18.5
15/18.5
22
22
22
26
Taper of Spindle


BT-50
BT-50
BT-50
BT-50
BT-50
BT-50
Diameter of Spindle
mm
155/190
155/190
200
200
200
200
Feed Rate














Maximum feed rates of Axes X, Y and Z
m/min
20X20X20
20X20X20
12×12×12
12×12×12
12×12×12
12×12×10
Accuracy














Repeated Accuracy
mm
±0.003
±0.003
±0.003
±0.003
±0.003
±0.003
Positioning Accuracy
mm
±0.005
±0.005
±0.015
±0.015
±0.015
±0.015
Automatic tool changer














Form of Tool Changer


Knife arm
Knife arm
Knife arm
Knife arm
Knife arm
Knife arm
Capacity of the Tool Magazine
support
24
24
24
24
24
24
Maximum Tool Diameter
mm
105/200
105/200
105/200
105/200
105/200
105/200
Maximum Tool Length
mm
350
350
350
350
350
350
Maximum Tool Weight
kg
15
15
15
15
15
15
Tool changing time (T-T)
sec
3.8
3.8
3.8
3.8
3.8
3.8
Power Source














Pressure of air machine

kgf/cm

2

7
7
7
7
7
7
Power demand
KVA
35
35
40
40
50
60
Size and weight of the machine














Net weight
T
15
18
18
24
33
60
Overall size (length * width*height)
m
4.8X3.2X3.8
5X3.9X4
6.4×4.2×4.3
7.5×4.5×4.6
8.5×4.7×4.9
15.5×6.5×5.5