Vertical Processing Series > CV-956
Three-axis rail high-speed and high-accuracy machining central machine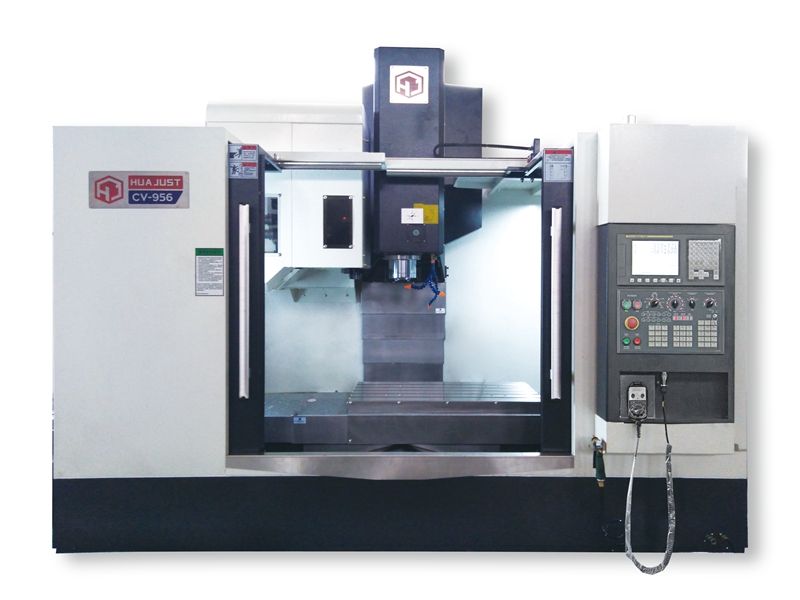 Advantages of the product
---
The guide rail, which is greater than that of common 850 type machine and 45mm wide, is applied to the bearing axis; the power of the spindle motor can achieve 15KW, the bearing axis can be taken as a small "King Kong".

The heavy-duty roller type guide rails of Taiwan or German brand, and Taiwan spindle with an external diameter of 150mm are applied to the three axes; the product can effectively cool the spindle that runs at high speed in connection with Tongfei oil cooler which is shared with the Beijing Jingdiao CNC machine tool, thereby improving the service life of the spindle; and accordingly the machining accuracy is improved.

The tool magazine is designed as a fully-sealed structure which can effectively prevent the spattering iron scraps from adhesion to the tool magazine; therefore, the fault of the tool magazine is greatly reduced, and the service life and accuracy of the spindle are improved.
Structure introduction of the machine tool body
---
on the basis of 850 type machine, this type of machine tool uses the super-wide lambdoidal structure and widened span between the guide rails, in order to improve the rigidity of the machine tool. In connection with 45mm heavy-duty roller type guide rails, the machining rigidity of the bearing axis much superior to that of common 850 machine tool.
Technical Parameters
---
Basic specification:
unit
CV-956
Stroke




Strokes of Axes X, Y and Z
mm
900X550X560
Nose of the Spindle to the Table Surface
mm
120-670
Center of the Spindle to the Shield Surface of Axis Z
mm
580
Maximum Load of the Table




Table Size
mm
1000X550
Maximum Load of the Table
kg
900
Size of T-Shaped Slot (Width * Number of Slots * Interval)
mm
18×5×90
Spindle




Revolving Speed of Spindle
rpm
10000
Horsepower of Spindle Motor
kw
11(Optional15)
Taper of Spindle


BT-40
Diameter of Spindle
mm
150
Feed Rate




Maximum feed rates of Axes X, Y and Z
m/min
36×36×36
Accuracy




Repeated Accuracy
mm
±0.003
Positioning Accuracy
mm
±0.005
Automatic tool changer




Form of Tool Changer


Knife arm
Capacity of the Tool Magazine
support
24
Maximum Tool Diameter
mm
80/150
Maximum Tool Length
mm
300
Maximum Tool Weight
kg
8
Tool changing time (T-T)
sec
1.8
Power Source




Pressure of air machine

kgf/cm

2

7
Power demand
KVA
20
Size and weight of the machine




Net weight
T
6.5
Overall size (length * width*height)
m
2.8×2.3×2.65